Ball's Crane Service, LLC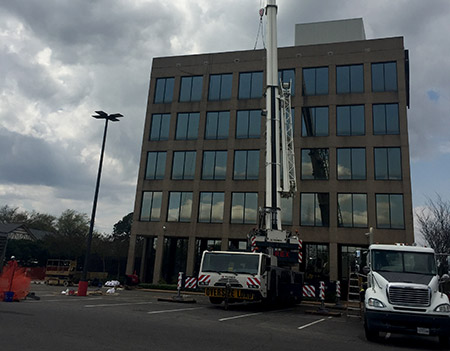 Get the right equipment for your next project. Ball's Crane Service offers 24-hour crane services with operator included. Whatever your crane lifting needs may be, whether it's constructing signs or moving machinery, we have what you need to get the job done right.
Professional Equipment, Expert Operators in Alexandria, LA
Do you have a big project on your hands? Do you need top-quality equipment and highly-qualified professionals to operate it? Ball's Crane Service in Alexandria, LA is your perfect solution. We not only provide industry leading hydraulic cranes, we send an experienced technician to operate the machinery for you. Our cranes are compatible with LMI Systems and Anti-Two Block Systems and are inspected annually to ensure top performance. At Ball's Crane Service, LLC, we are ISN Certified and all of our operators are NCCCO Certified. We are fully committed to delivering only the best for your project. It's why we have been the premier crane service provider in Alexandria for over a decade.
As a member of the Better Business Bureau and the Chamber of Commerce, Ball's Crane Service has an established reputation in the community. When your project requires a crane in or surrounding Alexandria, LA, or you can trust us to work hard for you. We take pride in our work and are willing to go the extra mile to satisfy our customers. Owner, Leslie Ball, brings over 35 years of experience in the industry to the business. He has set competitive rates to bring you the best value possible for your project. To further serve you, Ball's Crane Service is available 24/7. Our specialty services include moving heavy machinery, constructing billboard signs, municipal building projects, acreage clearing and more. Our industry-leading advantages include:
We are locally owned and operated, established in 2003.
We bring over 35 years of experience to your project.
Our services include top-quality cranes and certified operators.
We have an A+ rating with the Better Business Bureau.
We offer 24/7 service for your convenience.
Let the Pros Handle it
When you're faced with a big project, contact the certified professionals at Ball's Crane Service to get the job done right.
Areas Served
Proudly offering crane services and machinery moving to the following areas:
Alexandria, LA
Leesville, LA
De Ridder, LA
Jackson, MS
Lafayette, LA
Natchitoches, LA
Shreveport, LA
Tallulah, LA
New Roads, LA
Lake Charles, LA
Baton Rouge, LA
New Orleans, LA
Morgan City, LA
Jeanerette, LA
Beaumont, TX